Eighteen Sacred & Medicinal Flowers of Kerala ( Ashta Dasa Pushpangal )
Eighteen Sacred Flowers = Dasa Pushpangal + Thechi, Mandaram, Tulasi,, Pichakam, Chembarathi, Mullapoo, Thumbapoo & Thamara in Kerala Traditional Medicine, Nattu Vaidya.
"പൂവ്വാംകുറുന്തല്‍ തിരുതാളി
ഉഴിഞ്ഞ വിഷ്ണുക്രാന്തി
നിലപ്പന മുയല്‍ച്ചെവി
ഭൃംഗരാജന്‍
മുക്കുറ്റി ദുറുവ ചെറുള
കയ്യോന്നികളിതെന്നിതെല്ലാം
പത്തുള്ള പുഷ്പമിവ
ചൊല്ലത് കേള്‍പ്പൂ ഞാനും"
The Ten Sacred Flowers, because of their medicinal values, have been recommended by Sages. The above poem lists the Sacred Flowers. Kerala's immense medicinal heritage includes Dasa Pushpas, Nalpamara, Tri Phala, Dasa Mooli et al.
We place these Sacred Flowers in our Sacred Space Room, Puja Muri, during the holy month of Karkitaka. On Thiruvathira Day, women wear these Ten Sacred Flowers for Mangalya Bhagya or for Fortunes for their Husbands. Cheroola & Karuka are used mainly for Bai Tarpana. Bindhi, made from Mukkootti is used by Eternian women.

History
It is said that Mother Sita wore Dasa Pushpas. This has been stated in the greatest poem ever written, the Ramayana. Ayurveda is part of the Eighteen Intuitive Sciences, formulated by Rishies. Through their Divya Drishti, divine vision, they discerned the therapeutic properties of plants and declared that no plant has been created by Him, devoid of any medicinal value.
Not only do they bring Positive Energy into our lives, they also control the Dasa Vayu in our body. Hence they have been defined as Pure Plants, having Devamsam or divine content. But,because of the influence of other cultures, many are now disregarding these plants.
---
First , the Ten Sacred Flowers , Dasa Pushpangal
1. UZHINJA, Cardiospermum halicacabum

Uzhinja has anti inflammatory & analgesic properties. Minor wounds can be cured by its juice. Can be used in treating ear aches and swellings. It is also used in hair oil preparations and is effective in the treatment of dandruff. It darkens hair and has laxative properties.
2) Mukkootti , Biophytum sensitivum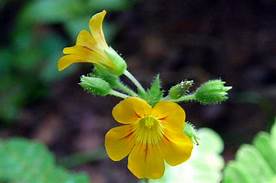 This herb's properties - It is astringent, diuretic, antiseptic and antipyretic. Its flowers are yellow to orange in color. Ayurveda averrs that this herb is ushna veerya and kashaya rasa lakhu. It is used to treat arthritis, stiff neck & sprain.
3) Karuka, Cynodon dactylon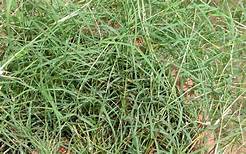 Possessing antiviral and antimicrobial properties, this plant is dedicated to Lord Ganesh. This herb is recommended in the treatment of infections of the urinary tract, blood disorders, skin diseases and dysentry. Recent studies reveal tthat it can control blood sugar. Its juice is cool and sweet.Extract from this planet is used in phlegm related diseases.It mitigates thirst and burning sensation. It can detoxify the body, when taken on an empty stomach. With curd, it forms a tonic, which is used in leucorrhea. It contains many vital minerals and crude proteins.
4) Muyal Chevian, Emilia sonchifolia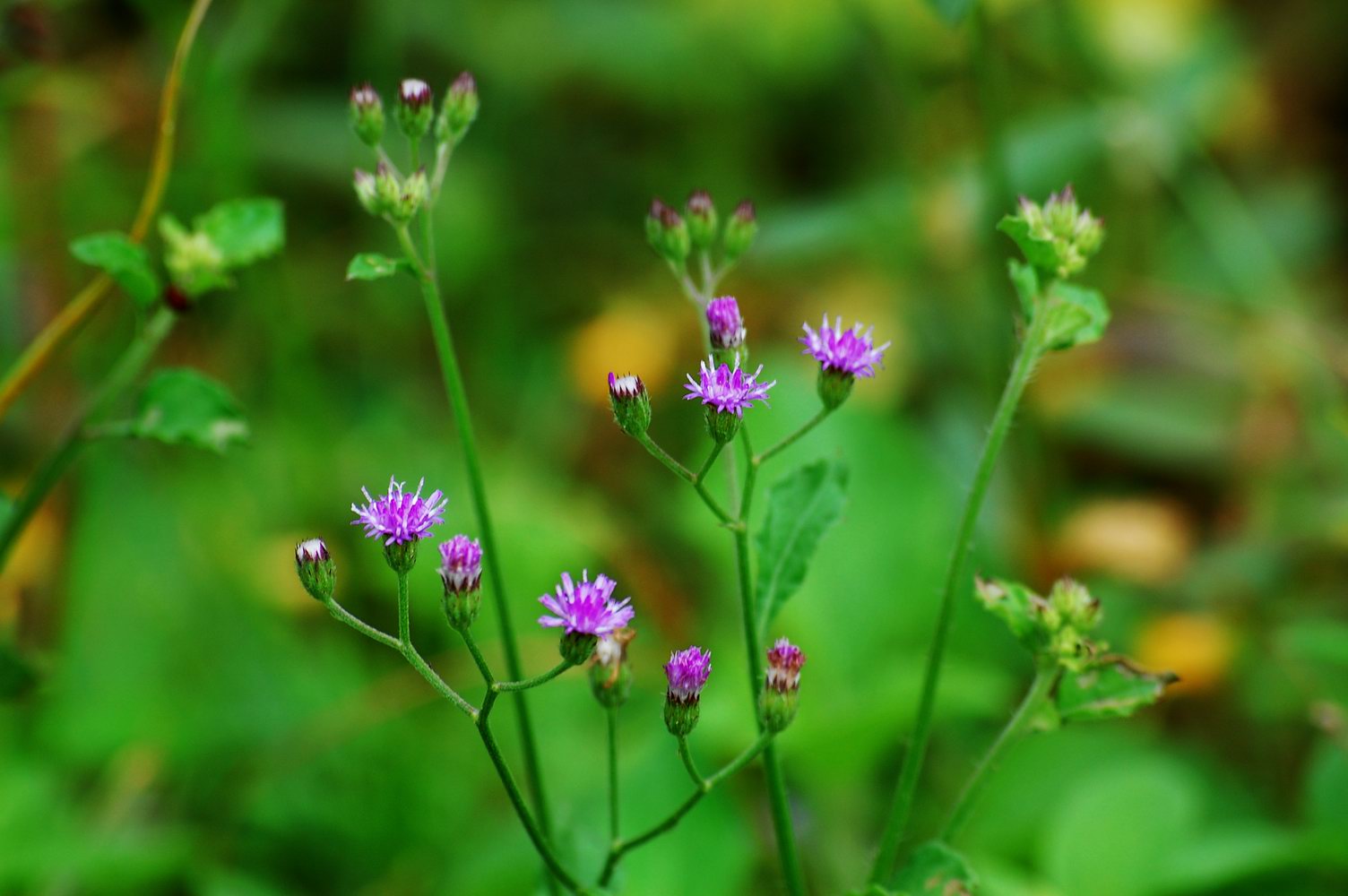 Known as Cupid's Shaving Brush, Emilia contains magnesium, potassium,sodium, phosphorus, niacin, riboflavin et al. It is used in the treatment of fever, tonsilitis etc.It pacifies Kapha. Its juice can be used in eye diseases, allergy and worm infections. Its paste is useful for bleeding piles. Its decoction brings down fever. It is used in treating bronchtis & diabetics.g bronchitis and diabetics
5) Kayyonni, Eclipta alba
It is a remedy for disorders of liver, eyes, skin & hair. It is a tonic for liver and hair.This powerful herb in the traditional coconut oil of Kerala.
6) Cheroola, Aerva lanata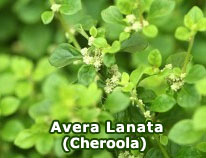 It is effective in urinary infections, kidney stones and is normally taken in the seventh month of pregnancy. It is an anti-diarrheal, diuretic, tonic, memory enhancer, demulcent and digestive.
7) Nilappana, Curculigo orchiodes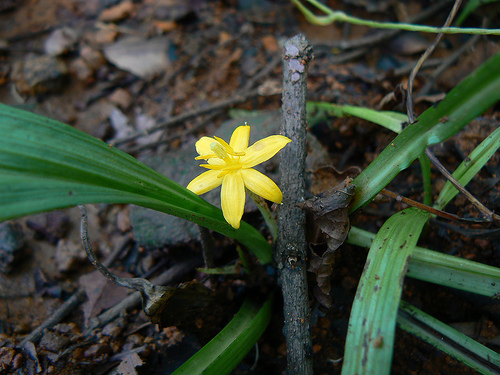 It is used in the treatment of sperm deformity, low sperm count, respiratory and skin disorders.

8) Puvankurunthal , Vernonia ceneria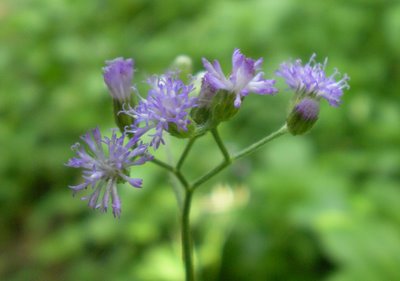 This herb can pacify Kapha and Vata. It has ushna veerya and tikta rase.
It is used to cure tonsilitis, digestive tract disorders, fever, conjunctivitis, poisonous insect bites, flatulence, intestinal colic, leucoderma & other skin diseases.
It has purple or white leaves.it has ushna veerya, tikta rasa and rooksha guna. The leaves are misec with cow's milk. while treating conjunctivitis.
9 ) Shankha Pushpam, Evolvulus ulcinoides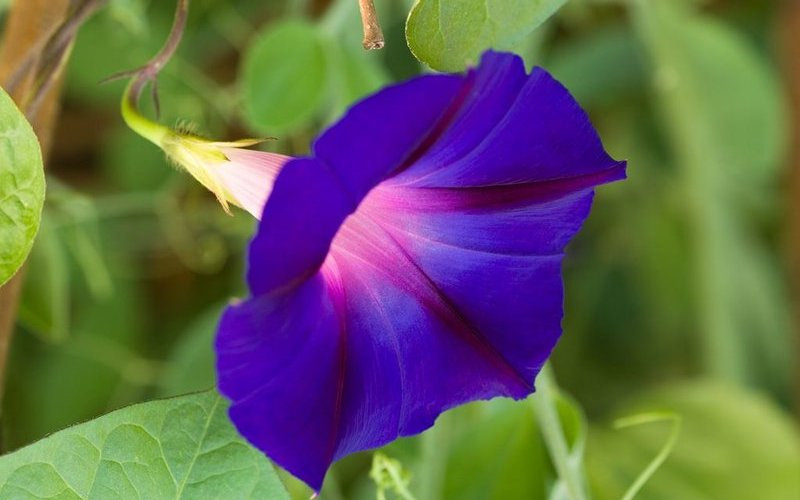 Non toxic, it has no side effects. Anti hypertensive, Used in neurodegenerative diseases, ulcers, epilepsy, high BP, sun stroke, bleeding , vomiting and diabetes.
10) Thiruthali , Ipomoea obscura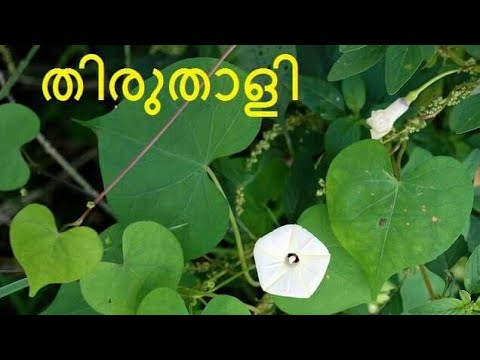 Most effective in arsenic poisoning. Its juice has diuretic properties.
---
11) Thumba Flower, Leucas aspera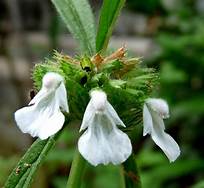 Functions like antihelmintic, anti bacterial, most effective in the treatment of insect bites, jaundice, diseases related to Liver, scorpion bites, sinusitis & Snake bites.
12) Thechi , Ixora coccinea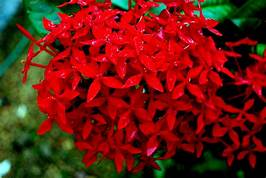 Most effective as anti-diarrheal, antidysenteric, anticancer, anti inflammatory, antifertility, anti eczema, anti bronchitis & anticolic.
13 ) Mandaram , Bahuinia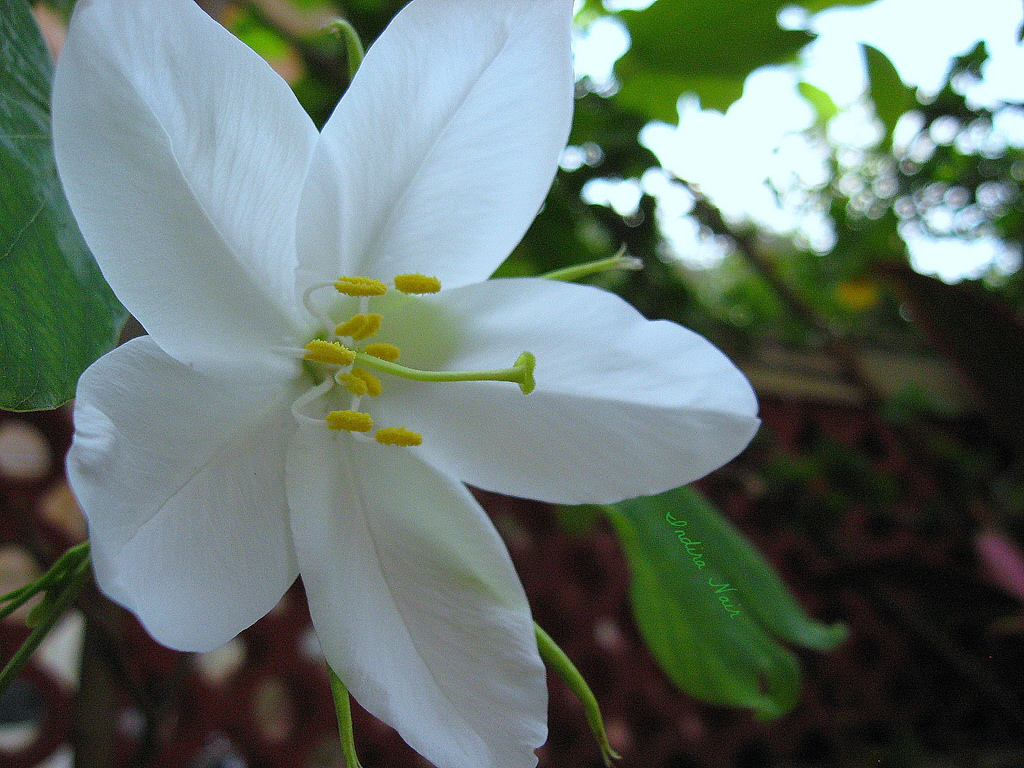 It is an anti-oxidant, anti diabetic, anti inflammatory, anti leprotic, astringent, anti microbial, anthelmintic, Useful in the treatment of wounds, ulcers, edema, dysentry, eye disease, piles, hemorroids and is an antidote to snake bite.
14 ) Tulasi , Ocimum Sanctum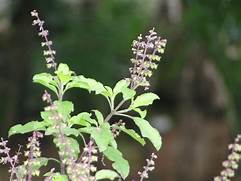 Used in the treatment of respiratory, skin & digestive tract diseases. Also in the treatment of tumors and diseases relating to phlegm. It is an immunomodulator, cytoprotective & and fights cancer.
It promotes a healthy heart, slows down aging, relieves headaches, treats kidney stones, fights acne & relieves fever. It is anti inflammatory, promotes oral and eye health and is a good source of Vit K. It can cure respiratory disorders.
15 ) Pichakam, Spanish Jasmine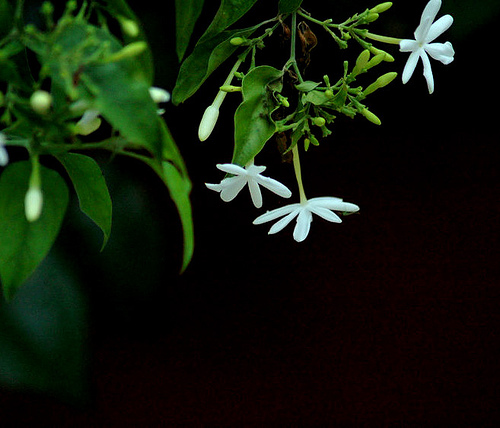 Anti fungal, antibiotic, anti oxidant, aphrodisiiac, diuretic & sedative.
16) Chembarathi Flower , Hibiscus, Shoe Flower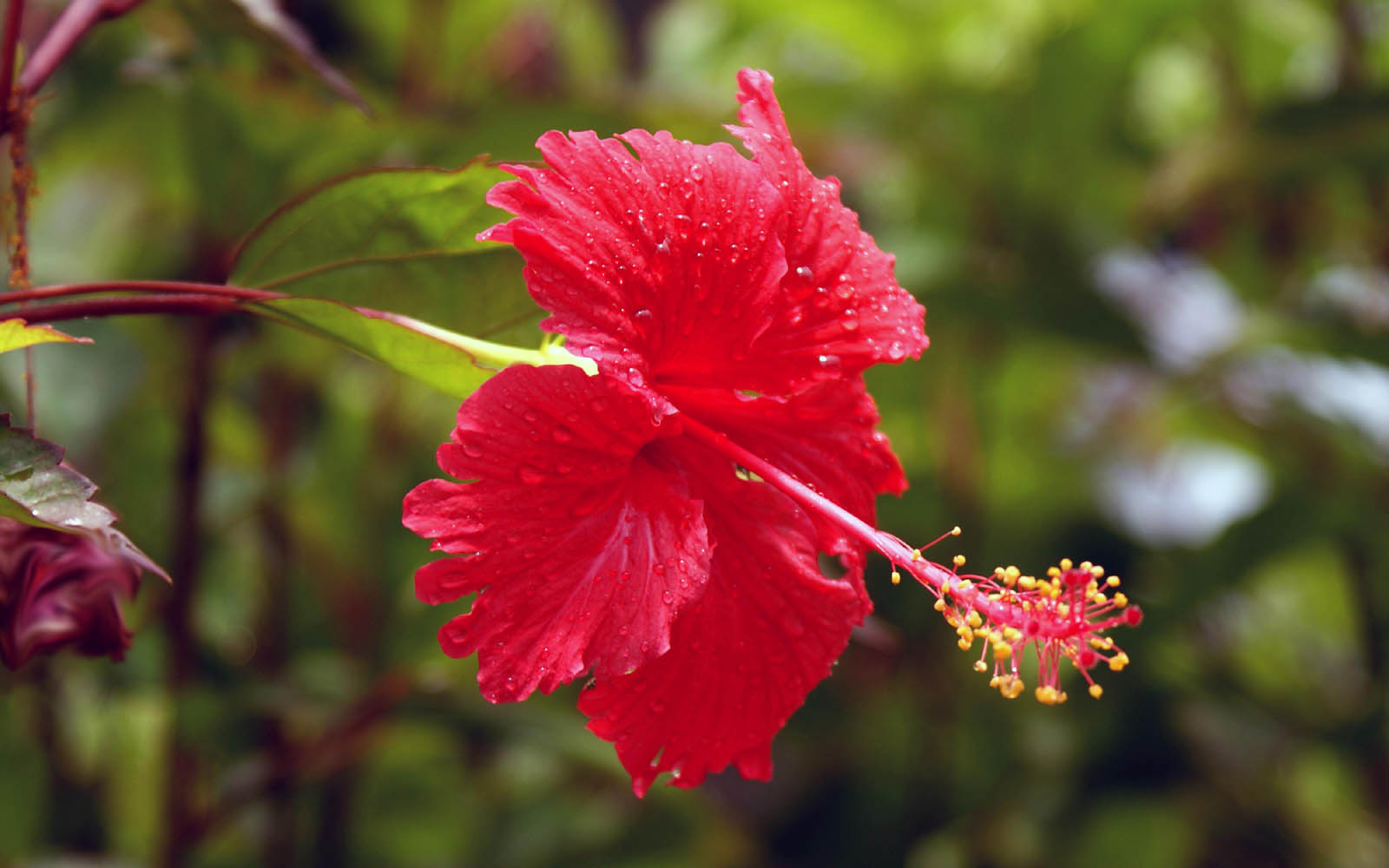 Anti aging, anti cancer, energy booster, anti acne, immunity booster, fluid balancer, metabolisn speeder, hair fall stopper, Cholesterol lowerer , body temperature maintainer & hair color darkener is Hibiscus.
17 ) Thamara , Lotus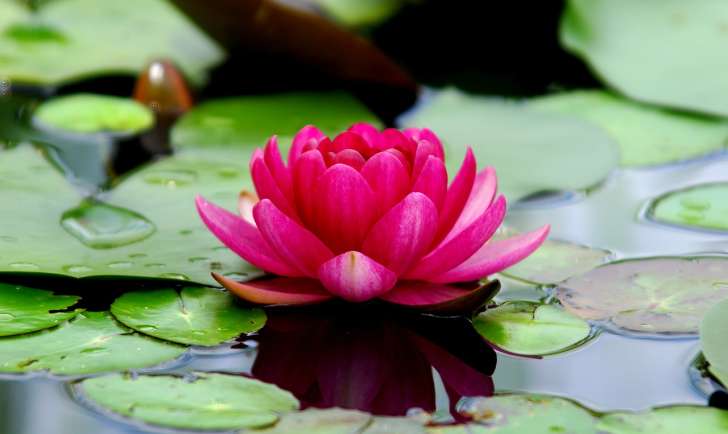 Lotus is rich in Vit B, C, iron, phosphorus, manganese, sodium, potassium and dietary fiber.
Lotus lseeds are used to restore the Vital force in the body physiologic. It can compensate fluid loss.
18 ) Mulla Flower, Jasmine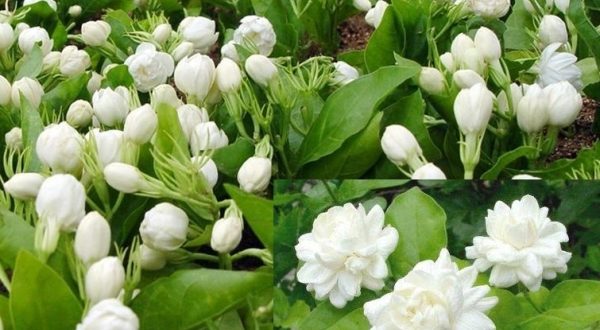 It is used in the treatment of diseases pertaining to liver, hepatitis, cirrhosis, diarrhea and abdominal pain. It is an aphrodisiac and a sedative. Also used in cancer treatment.
---
Some of these flowers figure in the Lord's garland !
How beautiful !