Horoscope of Arvind Kejriwal, Delhi CM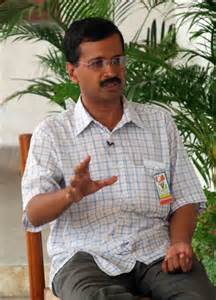 Taurus rising, with the exalted Moon in Taurus and we have the ideal politician. Both the political planets, the Sun and the Moon, are powerful.

The Moon is exalted in Taurus. The Sun is powerfully posited in his own house in Leo, with Jupiter, Venus and Mercury.
Jupiter and Mercury form a powerful Panditya Yoga, a scholarly Yoga. Dhairya Yukta Panditascha Sukhee Bhavathi manava.
Mercury and Sun form a Nipuna Yoga, a yoga for skill. Budhena Nipunam Dhee Keerthi Soukhyanvitam.
Sun and Jupiter form Kahala Yoga, a yoga for scholarship. It is to be noted that Bernard Shaw was born in Kahala Yoga. Vidya Vinaya sampanee Roopavan Vijitendriya.
He is running the Second Jupiterian Transit, till Jun 19th. This favorable Transit has catapulted him into the limelight. As Jupiter gives effect two months before, Dwimasau Gurau, from Apr 19, time can be adverse for him.
He is running the Dasa of Jupiter. Jupiter is powerfully posited in the 4th and owns the 11th and 8th houses. The Eighth Lordship of Jupiter can confer Raja Yoga.
In the Navamsa Chart, Sun is exalted and Mercury is in his own house. Mars also is Swastha. A powerful chart indeed !

Arvind Kejriwal KRITHIKA 16/08/1968

-----------------------------------------------------------------
| | | MOO | |
| | | | |
| RAH | SAT | | |
| | | LAG | |
| | | | GUL |
-----------------------------------------------------------------
| | | |
| | | MAR |
| | | |
| | | |
------------------- M a i n C h a r t -------------------
| | | SUN MER |
| | | VEN JUP |
| | | |
| | | |
-----------------------------------------------------------------
| | | | |
| | | | |
| | | | KET |
| | | | |
| | | | |
-----------------------------------------------------------------

-----------------------------------------------------------------
| MOO | SUN | | MER |
| | | | |
| | SAT | | KET |
| | | | |
| | | | |
-----------------------------------------------------------------
| | | |
| | | |
| | | |
| LAG | | |
------------------- D - 9 (Navamsa) -------------------
| | | |
| | | VEN |
| | | |
| | | |
-----------------------------------------------------------------
| | | | |
| | MAR | | JUP |
| RAH | | | |
| | | | |
| | GUL | | |
-----------------------------------------------------------------
Place of Birth - Hissar , Date of Birth - 16081968, Time of Birth - 1146 PM, Longitude -075 E 45, Latitude - 29 N 10