Ashtapadi XX - mugdhE madhu - Ode to the Lord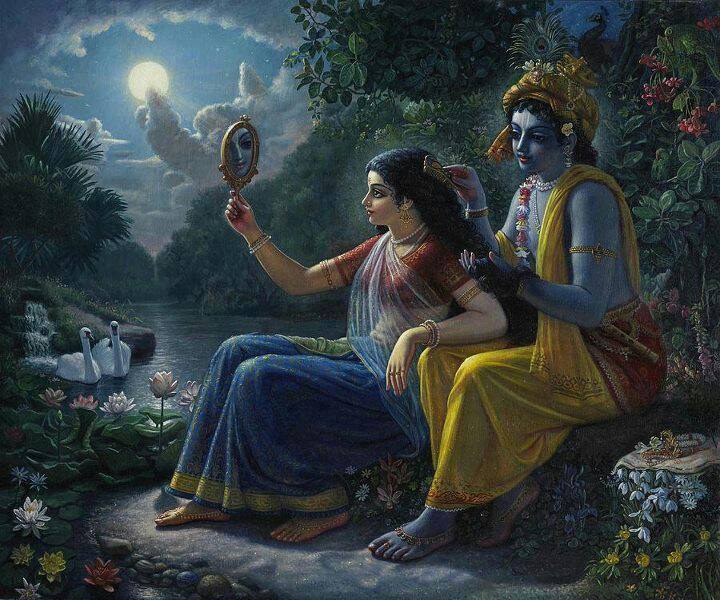 Thus the Blessed Lord
Pleased dove eyed Radha
His own Prakriti
With sweet words !
She decorated happily
To meet Him at eve
In a cottage
Her confidante advised
Her like this !
mugdhE madhu - mOhana - Adi or kaLyANi-chApu
Slokam: suchira manunayEna preeNaitvA mrugAksheem
gatavati kruta vESE kESavE kunja SayyAm
rachita ruchira bhooshAm drushTi mOshE pradOshE
sphurati niravaSsdam kApi rAdham jagAda ||

C 1virachita chATu vachana rachana charaNE rachita praNipAtam
samprati manjula vanjula seema ni kELi Sayana manuyAtam
mugdhE madhu madhanam anugata manusara rAdhE||mugdhE ||

O innocent Radha
Didnt the Lord
Speak sweetly to thee
Bowing before thy feet
Doesnt he now
Wait for thee in cottage
Follow Him happily
For Bliss is thine !


C 2ghana jaghana sthana bhAra bharE dara mandhara charaNa vihAram
mukharita maNi manjeera mupEhi vidhEhi marALa nikAram||mugdhE ||

Gently you walk
Heaviness of your loins
Make thee walk slowy
Your anklets
Gem studded
Make tinkling noise
Your gait humbles
Movement of swans !


C 3SruNu ramaNeeya taram taruNee jana mOhana madhu ripu rAvam
kusuma SarAsana SAsana vandini pika nikarE bhaja bhAvam||mugdhE ||

How sweet the melodious flute
Of our beloved Lord
Damsels are enticed
See how the cuckoos coo
Acclaiming Cupid's commands !



C 4anila taraLa kisalaya nikarENa karENa latA nikurumbam
prEraNa miva karabhOru karOti gatim pratimuncha vilambam||mugdhE ||

See how creepers are swaying
Gently due to breeze
They are encouraging
You to meet thy beloved !
Dont delay, meet Him!
C 5sphurita mananga taranga vaSAdiva soochita hari parirambham
pruchcha manOhara hAra vimala jaladhAra mamum kucha kumbham||mugdhE ||
How see Cupid's
Great influence
Tickles thy body !
Pearl garlands on your chest
Appear like glittering water
Overflowing !

C 6adhigata makhila sakheebhiridam tava vapurapi ratiraNa sajjam
chanDi raNita raSa nArava DinDima mabhisara sarasa malajjam||mugdhE ||

All thy friends know
Thou art longing for Union
With thy Lord !
Who is the Lord of all !
Bells on thy waist
Are ringing !
O angry One
Leave thy shyness
And meet the Lord !

C 7smara Sara subhaga nakhEna sakhee mavalambya karENa saleelam
chala valaya kvaNitai rava bOdhaya harimapi nigadita Seelam||mugdhE ||

Look how thy nails
Resemble Cupid's
Hold your friend
Go to the Lord
With beatific peace !
May the sound
Of thy anklets
Indicate thy arrival !

C 8Sree jayadEva bhaNita madhareekruta hAra mudAsita vAmam
hari vinihita manasAmadhi tishTatu kanTha taTee mavirAmam||mugdhE ||

Without any crookedness
In Bridal Mysticism sublime
Jayadeva composed this song
With pearl like words !
Let this immortal Song
This Song of all Songs
Remain in the minds
Of His sincere lovers
His Seers and Saints !
Translation By
Govind Kumar