!—- ShareThis BEGIN -—> <!—- ShareThis END -—>
Ashtapadi XVIII - mAdhavE mAkuru - Ode to the Lord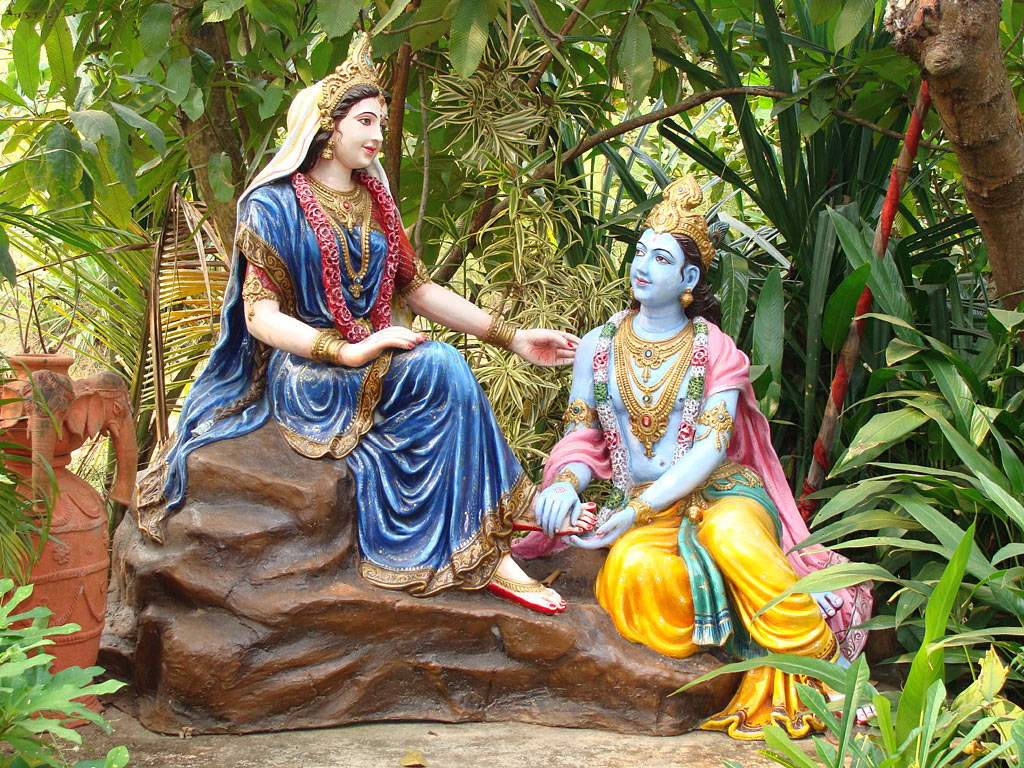 Radha yearns to have union
With the Blessed Lord !
It is true she had a tiff with Him
And was thinking about it
Then her confidante
Told her like this.
mAdhavE mAkuru - yadukula kAmbhOji- Adi
SlOkam tAmadha manmadha khinnAm
ratirasa bhinnAm vishAda sampannAm
anu chintita hari charitam
kalahAntaritA muvAcha rahasi sakhee||

harirabhisarati vahati madhupavanE
kimapara madhika sukham sakhi bhAvanE
mAdhavE mAkuru mAninee mAnamayE ||
Radha pines in vain
To have union with Self
A breeze of spring is blowing
As Krishna comes to her
Dont be angry with Him
As He loves you fondly !

tALaphalAdapi gurumati sarasam
kimu viphalee kurushE kucha kalaSam||mAdhavE ||
Like Tala fruits
Are your breasts !
Dont spoil your joy
And curse the Lord !
katina kadhitamida manupada machiram
mAparihara harimatiSaya ruchiram||mAdhavE ||
Dont leave ever
Thy ravishing Krishna !
This was revealed
To thee so many times.
kimiti visheedasi rOdishi vikala
vihasati yuvati sabhA tava sakalA||mAdhavE ||
Why are you so gloomy ?
Why has thou lost
Fresh blood of thy cheeks
Given to sad musing
And curst melancholy ?
mrudu naLinadala Seetala SayanE
harimavalOkaya saphala nayanE||mAdhavE ||
Thy Krishna is lying
On a cool bed
Of lotus leaves !
Let thine eyes
Be happy ever !
janayasi manasi kimiti guru khEdam
SruNu mama vachana maneehita bhEdam||mAdhavE ||
Why are you making
Thyself miserable ?
My sincere request
Should be honored !

harirupayAtu vadatu bahu madhuram
kimiti karOshi hrudaya mati vidhuram||mAdhavE ||

How can the Lord leave you ?
Did He not declare
"I am with thee eternally" ?
Anu vrajami Aham Nityam ?
How can the Self
Leave thee ever ?
Isnt the Supreme Self
One with individual Self ?
His great transparent mirror, Self !
He is with thee always
He will talk to thee
Why unnecessarily
Torture thy mind ?
Sri jayadEva bhaNita mati lalitam
sukhayatu rasikajanam hari charitam||mAdhavE ||
This song beauteous
Is told by Jayadeva
Describing love transcendental
Between Purusha and Prakriti
Being and Becoming !
May this song supernal
Bestow happiness
Translation By
Govind Kumar