The Zodiacal Sign of Aquarius comprises the two lunar mansions of Alpha Delphini ( Dhanishta) , the four quarters of Alpha Aquari ( Satabhisha) & the three quarters of Alpha Pegasi ( Poorvabhadra).
For Aquarius Moon Signs,
Venus in the 12th can give lucky breaks in finance.
Sun in the 11th causeth rise in profession.
Jupiter is negative in the 6th and you may be bound to the mundane, Shashte Maveli Bandanam.
Saturn in the 10th can create financial stringency.
Profession
Jove in the Sixth indicates problems from the jealous, Ripu Badham. Manifests as enemies spreading negative propaganda about you.
Ladies
Shelve all new relationships.
Students
Ekagrata or One Pointedness of Concentration, can be had from Meditation.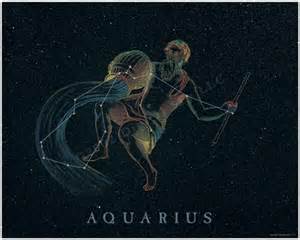 North Node's Transit
Great care must be exercised while handling money, as the North Node transits the dangerous 8th. Physical and mental discomforts, tensions galore, insubordination of staff, incompatibilty of temparament with partner - all thes are the effects of Rahu's dreaded 8th transit. Exercise prudence and restraint in all endeavours. Friends and relatives turn jealous and whip up discontent to ruin your mental peace.
You can resort to Astro Therapy by reciting the mantra of Rahu - Om Rahave Namah - in a state of purity. If you wear a Rahu Yantra, the North Node may not trouble you. Astrology programs and Astrology Software deal with the transit of the Nodes.
Chandrashtama - The Black Hole of Natal Astrology
When Transit Moon transits the 8th from Radical Moon, Chandrashtama is caused ( Janma Rasyashtame Prapthe Chandre Chandrashtamam Smritham ). You should avoid major decisions during this period as Luna's 8th transit is considered malefic ( Anishtan ) in Astrology Vedic.
Anything of the flesh will be affected during this phase of Ashtama Indu. Tension grips your mind. You become subject to Melancholia. Mental tension, physical discomfort, delays in undertakings and travel, misplaced documents, sporadic clashes with partner - all these mark your pitiable state. During this 2 1/4 days, you are advised to pray and meditate as to quieten the mind and seek solace in the Eternal. As the luminary representing the Mind, the Moon, traverses through the dreaded Eighth House, mental peace makes a strategic retreat.
Be careful about these days - 12 Jan to 13 Jan Ashtamendum cha Tad Rasim Varjayeth Sarva Karmasu
Remedial Measures
Propitiating Jove is not easy. Chant the mantra Om Brihaspataye Namah, donate food to the poor, avoid alcohol and non veg . Fasting recommended on Thursdays. Impart knowledge to students as Vidya Daanam Maha Daanam.
Saturn should be propitiated with the mantra
Om Shanaischarayai Namah
As Anna Daanam is Maha Daanam, feed the poor on Satrudays. Fasting on Saturdays, worshipping the Tutelary Deity on Saturdays, chanting His mantra, His Peedahara Stotra, His Gayatri, His Stotra can mitigate his negative influences.